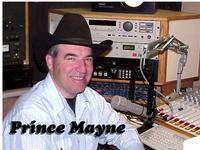 Prince Mayne continues to enjoy his professional career in the Broadcast and Entertainment industry that began in 1982. Through the years, he's believed in the philosophy that "In the quest of perfecting one's craft, any work or performance can always be done better." Thus Prince developed a passion and commitment to excellence in his works. He humbly maintains that same work ethic today as it proved to be quite beneficial to establishing his past track record of success that has now spanned over 30 years. 
On the Radio, Prince has been entertaining listeners all across America. Most recently heard on scores of stations coast-to-coast as he performed for 12 years as a National Country Radio Personality for the Dial Global/Westwood One Radio Networks based in Denver, this after spending 7 years as PD/OM and Morning Personality for the KZ-Country Satellite Radio Network. Prior to that he handled Mornings and Programmed WCCQ "Q-Country" in the burbs of Chicago. As a San Francisco native, Prince was also heard doing afternoons in Salinas/Monterey at the legendary KTOM and later spent some time in the Big D working evenings at KDNT Denton/Dallas. He also spent many years on-stage performing with a local country band, Southern Knights, opening for many Top Country Artists around Chicago during the late 80s and early 90s. Additionally, with his versatile deep baritone voice and creative audio production skills, Prince has achieved much success as an Independent National Voiceover Talent as well as being one of the most requested voice talents and producers for Westwood One's PDQ Production Department. 
Today, Prince Mayne offers his professional Broadcast and Creative Audio Production Services through his own independent business "PM Voice Productions," operating from studios located on his ranch in West Central Iowa. As he's been doing for many years, Prince continues to voice and fully produce ads nationally for Westwood One's PDQ and TM Creative Services Department, plus regionally for two major marketing ad agencies on the west coast. Also, by offering creative monthly production packages and special low rates aimed directly to individual Radio and TV stations, his own list of satisfied clients continues to grow. Meanwhile, Prince Mayne's on-air Radio presence has grown too! He's now heard all across the Powder River Basin of North Eastern Wyoming hosting the daily Classic Country Morning Show for the Basin Radio Network; Weekday afternoons he's heard all across mid-Nebraska on K-Bear Country; plus further south in Southern Colorado, he's hosting The Morning Show on Powerhouse KSPK serving Walsenburg, Pueblo and Colorado Springs. In addition, he continues to produce, host and distribute his own weekly signature show "Kick Back Tracks" that had earlier been running nationally for a decade over the Waitt/DG Radio Networks. Since Prince personally brought the show back to life in 2013, KBT continues to be heard on more and more radio stations across the USA! Now it's a 3-hour weekly Classic Country Music Show featuring a legendary artist in the spotlight, interesting stories behind the songs as only Prince could share and a memorable artistic music intensive trip through the 60's, 70's and 80's plus a nostalgic touch of the 50's. 
As far as his recreational lifestyle, Prince loves horses and the great outdoors and operates a horse-boarding stable at his ranch. So when he's not on-the-air entertaining the listeners or producing commercials, he's most likely riding his Morgan Mare, Mariah. Or maybe doing some farming chores like mending fences, pruning trees and all the other things that come with the enjoyment of living in the Heartland of America.